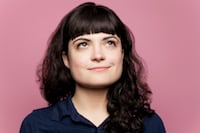 Filed by Jaime Lutz

|

May 18, 2016 @ 6:03pm
You should always slow down at crosswalks, because you'll never know when five terrifying(ly cute) bears will just appear out of nowhere. That's what happened in this short video from Banner Elk, NC, in which four bears dart across a crowded road to join another bear cub in the woods. The video has gone viral, with more than 54,000 views.
BEAR CROSSING: A video of a mother bear and her four babies bounding across the street in Banner Elk, NC is going viral....

Posted by WSOC-TV on Monday, May 16, 2016
The bears appear to be a mother and four cubs, so the drivers in the car are very lucky. As you know from Sarah Palin, mama bears get famously aggressive when they sense their cubs are in danger. Luckily, the threat of bear attack—much like the threat of Sarah Palin—was over quickly.