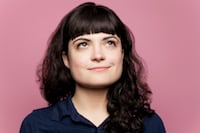 Filed by Jaime Lutz

|

Mar 23, 2016 @ 5:45pm
It's National Puppy Day today. Frankly, that's a much better national holiday than, for example, Columbus Day. By far. Like, Christopher Columbus was a horrible, racist, disgusting dude. Contrast that with this puppy using his mother's ear as a blanket. To celebrate this infinitely more deserving holiday, here are 23 tweets about the animal most worthy of your happy tears:
1.
I dreamt last night that I got a puppy and all I could think was, "I need to Instagram this fucking puppy."

— Gwen (@msgwenl) March 15, 2016
2.
Would be so upsetting to watch a puppy give Trump Unconditional love & affection

— Taryn Michael (@TarynMichael_) March 9, 2016
3.
I can only assume, based on how much my dog licks me, that I'm actually a puppy or a jar of peanut butter

— Shalyah Evans (@ShalyahEvans) March 9, 2016
4.
if God is real how come everything isn't a puppy

— the garbage shit boy (@davedittell) February 17, 2016