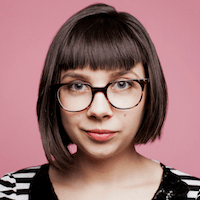 Filed by April Lavalle

|

Mar 22, 2016 @ 4:00pm
When Game of Thrones fans think of Icelandic actor Hafthór Júlíus Björnsson, they think of the character he plays on the show—​The Mountain. He is a huge, hulking hired assassin who (spoiler alert) smashes in people's faces without mercy. Usually when you see The Mountain he is, you know, doing normal Mountain stuff. Like beating people up until they die:
When Björnsson is not on the show, he can be seen doing other machismo activities like lifting many, many weights at once:
Or throwing really heavy shit:
So when the actor posted a picture of himself cradling a fluffy puppy in his giant tattooed arms on his Instagram, people freaked.
A photo posted by Hafþór Júlíus Björnsson (@thorbjornsson) on
Björnsson's Instagram is about 85% pictures and videos of him flexing his muscles or lifting weights (with a few pictures of food thrown in there, because Instagram), so seeing a furry friend up there is not part of his normal motif.
Since the man is 6'8" and his arms are like giant barrels with tattoos all over them, virtually anything he holds will be dwarfed (insert your own Tyrion Lannister joke here). However, the internet did hush any speculators that said that puppy might be a fully grown dog: