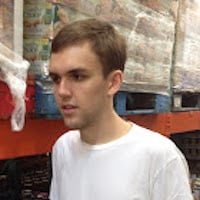 Filed by Bijan Samareh

|

Sep 28, 2015 @ 9:28am
At the papal parade in Philadelphia on Saturday, Pope Francis saw a baby pope and thought it was hilarious. Here's how it went down: Dana and Daniel Madden dressed up their son Quinn for the holy procession down Ben Franklin Parkway. As the Pope was rounding a corner, he caught sight of their baby and started cracking up. He stopped his car, had one of his assistants bring the baby over, and gave the baby a smooch. That's not weird or anything; the Pope kisses babies all the time—it's a Pope thing. The assistant brought their baby back and told them that the Pope thinks they have a "great sense of humor." Here's the clip:
Pope Francis Meets Baby Pope: Action News viewer Daniel Madden has quite a story to tell and so will his daughter...when she learns how to talk. #PopeinPhilly --> http://6abc.cm/1OZek66

Posted by 6abc Action News on Saturday, September 26, 2015
And here's a pic of the baby:
I imagine Pope Francis' laughter was the product of him warmly recalling the days when he was but a mere baby Pope. Ah, how the years pass right before our eyes.