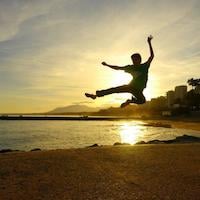 Filed by Mitchell Friedman

|

Feb 03, 2017 @ 9:28am
As J.K. Rowling's refused to stay silent on the same political and humanitarian issues everyone else argues and discusses 24 hours a day, some of her (former) fans have taken to burning her books.
In the latest troll attack on one of the most celebrated authors of our time, a tweeter attacked Rowling for—not witchcraft, not politics—but devil worship! How fun.
Nicolas Flamel, Rowling's fictional alchemist, created the philosopher's stone and gained immortality. At the risk of spoiling the end of the first Harry Potter novel, Flamel eventually gives up the stone and the implication is that he will one day succumb to mortality. He doesn't actually die in the book. Anyway... her fans had her back.
@jk_rowling But if they read it, they'd actually understand the story and lose their arguments against you. Where's the fun in that?

— Aimée Carter (@aimee_carter) February 2, 2017
Every time I see someone trolling @jk_rowling, I'm amazed they think it's a good idea to mess w/the woman who created Fred & George Weasley.

— Nadine G (@Nadine824) February 2, 2017
@PhelpsieSarah people, innit? Still, there are loads of nice ones. You, for instance. I'm going to bed xxx

— J.K. Rowling (@jk_rowling) February 2, 2017
If the new J.K. Rowling book comes out a little later than you might want, you know why.