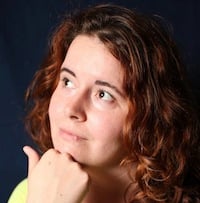 Filed by Aimee Lutkin

|

Dec 21, 2015 @ 11:28am
Comedian Amy Schumer gets a lot of criticism and most of it is about her looks. She spends so much time defending her right to appear on TV, it's incredible she has any hours left in the day to make fantastic comedy. Especially when she's coming up with nearly naked responses like this one:
Last week, The Hollywood Reporter published an interview between Schumer, writer/director Aaron Sorkin and a few other writers and producers, in which they talked about the effect of Internet criticism on the creative process. Sorkin is a big scaredy cat when it comes to computers and Schumer stepped in to reassure him after he said,"The Internet in general I find troubling. The anonymity has made us all meaner and dumber. This thing that was supposed to bring us closer together, I see it doing the opposite." During her reassurance she let an interesting tidbit drop:
The things that you're afraid they're going to say are so much worse than anything they actually say. But you've already put your nervous system through that fear. With Trainwreck coming out, I was like, "Everyone's going to say, 'She's not pretty enough to be in this movie.'" And then only one dude wrote that, and people really attacked him, and then he redacted that and wanted to date me. I've been waiting for this rainstorm of hate, and it's never really come.