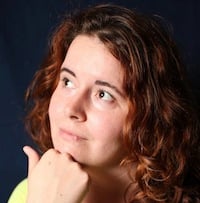 Filed by Aimee Lutkin

|

Dec 16, 2015 @ 4:10pm
People have been waiting with bated breath for a response from Anna Duggar ever since her husband Josh Duggar was widely publicized as a hypocritical cheat on every dating website known to Horny Man. After the website Ashley Madison (which targets married people looking for affairs) got hacked, Josh (the Christian activist and former star of 19 Kids and Counting) was discovered to be one of its users. After that, dedicated Internet sleuths turned up his profiles on OkCupid and Facebook, and at least one woman came forward to say he'd paid her for sex.
Many people were very worried about Anna, including her brother. Even some of Josh's sisters seemed be turning their backs on him. Now, TLC has released a clip from an upcoming episode of Jill and Jessa: Counting On, the newest iteration of the Duggars' reality show empire. In it, Anna finally speaks about her experience. Surprise surprise, it's mostly about God:
She says:
How could this happen in our marriage? Josh was my first love, he's my one and only...But I knew that my only hope was to cling to my faith, because I know that if I went off of what I was feeling, I would turn a mess into a disaster.

It is such a betrayal for a spouse to go through what we're walking through, and it was hard...It was hard to realize that it was such a public thing, and so not only was it a betrayal against me, but it was also a betrayal for those that call themselves Christians, because here we were as a Christian couple, everyone was able to see us get married and to vow before God to be loyal to each other, and that loyalty was broken.