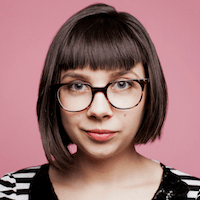 Filed by April Lavalle

|

Aug 02, 2016 @ 9:30am
In an essay posted to the website Lenny Letter entitled "Shamed if I Do, Shamed if I Don't," plus size model Ashley Graham spoke candidly about the hate she receives for appearing "too fat" or "too skinny" by her followers. This time Graham, who says she is a size 14, received a lot of negative criticism for appearing "too thin" according to her fans after she posted the following picture to Instagram.
A photo posted by A S H L E Y G R A H A M (@theashleygraham) on
The negative reactions from fans prompted the self proclaimed body acceptance activist to pen a rebuke for Lena Dunham and Jenni Konner's website and online newsletter.
To some I'm too curvy. To others I'm too tall, too busty, too loud, and, now, too small — too much, but at the same time not enough. When I post a photo from a "good angle," I receive criticism for looking smaller and selling out. When I post photos showing my cellulite, stretch marks, and rolls, I'm accused of promoting obesity. The cycle of body-shaming needs to end. I'm over it.