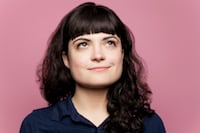 Filed by Jaime Lutz

|

Aug 16, 2016 @ 5:45pm
Apparently, maybe, Beyoncé has a secret Snapchat account. This secret was revealed when her mom Tina Beyincé-Lawson shared a video on Facebook of Beyoncé doing a faceswap with her mom while rapping a few bars from the Grandmaster Flash classic, "The Message." To recap: this is Beyoncé's voice coming from her mom's face, even though her mom looks a lot like Beyoncé herself. The internet in 2016 is weird.
Fans are freaking out that Beyoncé might have a Snapchat account they don't know about, because faceswapping is one of Snapchat's weirdo "filters" for videos and photos. The real news here is that Beyoncé only barely knows how to use Snapchat. She truly is a woman in her mid-30s.