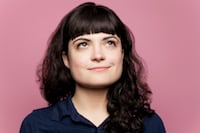 Filed by Jaime Lutz

|

Mar 28, 2016 @ 6:05pm
Chrissy Teigen, Internet truth-teller, took on the newest and strangest relationship to hit the Internet today: 58-year-old comedian Jon Lovitz and 27-year-old Jessica Lowndes. And Teigen, being Teigen, called bullsh*t.
I smell April fools on this lowndes/lovitz relationship but if I'm wrong whoops jk screw everyone f the haters do you, you two

— christine teigen (@chrissyteigen) March 28, 2016
All the smarties know to start fuckin with people now for a successful April fool. Hell I started months ago

— christine teigen (@chrissyteigen) March 28, 2016
Now Teigen's got you wondering what sort of devious trick she's up to for April first (oh God, what if she isn't really pregnant?). But here's the thing: Teigen was right. Chrissy Teigen was right and every pop culture website on the Internet—this one included—was wrong.
A video posted by Jessica Lowndes (@jessicalowndes) on
"I know it's the last week of March," Lowndes says in a new Instagram video. "But is it too early to say... April Fool's?" She then pans to a music video featuring herself and Lovitz.