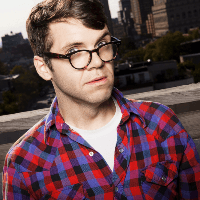 Filed by H. Alan Scott

|

Aug 26, 2016 @ 2:56pm
Admit it, Jeffrey Dahmer is kind of hot... for a serial killer. Which is why the casting of former Disney star slash heartthrob, Ross Lynch, in the upcoming Dahmer movie, My Friend Dahmer, is perfect. Not that Lynch is hot for a serial killer, he's just like hot hot. Like normal hot. But we bet he has an edge. A sharp edge... OK, sorry, we'll stop.
The film, set to be released in 2017, is based on the graphic novel of the same name, written by a former classmate of Dahmer's. The director of the movie, Marc Meyers — no relation to Mike Myers — describes the film on his website:
"Set in a truly weird and sinister 1970s adolescent world, Jeff tries to make new friends as his divorcing parents, teachers, and friends ignore his descent into alcoholism and madness. Jeff will later become the most depraved serial killer since Jack The Ripper. And this is the story before that story."
STOP TURNING US ON, MARC!
Dahmer of course killed 17 men and boys in the Milwaukee area between 1978 and 1991. He was into necrophilia and cannibalism, and enjoyed long walks on the beach. Sentenced to life in prison in 1992, two years later he was bludgeoned to death by another inmate, which we're pretty sure is the 90s prison version of being swiped left.