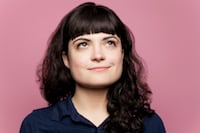 Filed by Jaime Lutz

|

Jan 20, 2016 @ 4:25pm
Orange Republican Donald Trump has weighed in on the #OscarsSoWhite boycott and guess what: he agrees with public intellectual and actress Stacey Dash that an all-white Oscars isn't a problem because the BET Awards only honor black people. There's your equality, folks! Despite the fact that, of course, the BET Awards exist to award black entertainers, and the Oscars are supposed to be awards for the best in all film, regardless of race (or gender, or anything else). Oh, and also despite the fact that Sam Smith won Best New Artist last year. Not 10 years ago. Last year.
"I saw somebody on your show today say, 'Well, what do we do with BET?'" said Trump in a phone call to Fox & Friends, referring to Dash's earlier appearance. "The whites don't get any nominations, and I thought it was an amazing interview, actually. I've never even thought of it from that standpoint."
"I mean, I've watched over the years where African Americans have in fact received Academy Awards and have in fact been represented," he continued. "And this is not one of those years, but over the years I've seen numerous black actors and African American actors receive awards and I think that's great. This doesn't happen to be one of those years. … It's a difficult situation."