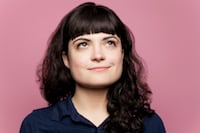 Filed by Jaime Lutz

|

Jul 05, 2016 @ 6:40pm
Actress Emma Watson wasn't happy about the online pearl-clutching that occurred in reaction to rumors of a chaste sex scene in her most recent film, the historical thriller The Colony (Colonia). Because she's Emma Watson, she's speaking out about them. Here is the trailer for that sexy movie about a sexy ex-Nazi cult:
Blink and you'll miss it, but there are tiny hints of a sex scene in that trailer! Now, as a reminder, Watson is 26 years old. Like most 26-year-olds, she is old enough to have sex. And whether or not she has made that choice for herself (which she probably has because she's 26 years old and she looks like Emma Watson), she's definitely old enough to film sex scenes for artsy period piece dramas.
But that doesn't stop dumb media outlets from gasping every time "Hermione Granger" (she's not actually Hermione Granger, you guys) plays roles that are appropriate for someone her age. Her current age, not the age weirdos want her to stay at. Watson has had enough of that, she tells the Times in an interview.
"I'm 26 now," she added. "I've been in 15 films in total and me kissing somebody else shouldn't be risqué or horrifying, but I think that will continue for a long time. There have been lots of advantages to being part of that franchise [Harry Potter], and playing that role for a long time, but inevitably there are obstacles and that's one of them."