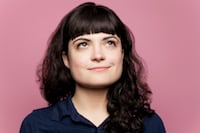 Filed by Jaime Lutz

|

Dec 08, 2015 @ 9:56am
Watch out, Saint West, this baby is coming for your Klout score. On the day she was born, Chanel Nicole Austin—the 11-day-old infant of rapper Ice T and model Coco Austin—became, quite possibly, the youngest person ever with a Twitter account. It was a solid social media strategy for Chanel Nicole, and now she's solidifying her Internet presence even further—with a holiday photoshoot that would make a Mariah Carey Christmas album cover jealous.
"Mom's not the only model in this family," Chanel typed out with her little baby fingers on her Instagram account.
By the way, usually children don't develop even basic fine motor skills until they're seven to 12 months old, so the fact that Chanel was able to type this and post it on Instagram is pretty impressive.
Her mom shared more shots from the Photoshoot, which Chanel was happy to regram.