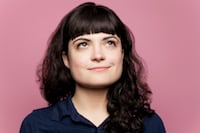 Filed by Jaime Lutz

|

Apr 07, 2016 @ 6:10pm
Actress Jennifer Lawrence is really down-to-earth, you guys. And so honest, you know?
How honest is she? In a recent interview with Harper's Bazaar, she gave readers enough information to figure out her menstrual cycle.
Said Lawrence, about the red dress she wore to the Golden Globes in January:
That was my plan-B dress. Plan A was a dress that I couldn't wear because awards season is synced with my menstrual cycle, and it has been for years. [I went with the red dress because] it was loose at the front. And I didn't have to worry about sucking anything in. The other dress was really tight, and I'm not going to suck in my uterus. I don't have to do that.
If Jennifer Lawrence's menstrual cycle is like most women's, she's probably getting her period again right now! Isn't that interesting to know? Now you can try to time your birth control pills to sync up with her cycle, you obsessive J-Law fan you!