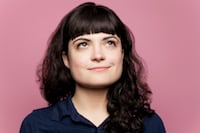 Filed by Jaime Lutz

|

Jan 14, 2016 @ 9:33am
While everyone's sad about the death of British actor Alan Rickman today, here's one piece of trivia: J.K. Rowling told producers when they were casting Harry Potter and the Sorcerer's Stone that Rickman was her dream choice for Severus Snape.
According to a 2001 TIME Magazine article:
Rowling also had a hand in choosing most of the adult cast members. She specifically requested [Robbie] Coltrane [for Hagrid]. Others, like Richard Harris as Dumbledore, Maggie Smith as Professor McGonagall and Alan Rickman as Professor Snape came straight from a wish list of actors that Rowling provided the producers.
Not only that, the Harry Potter writer told Rickman crucial, top secret information about Snape's role in the series before the final books had been finished:
She gave Rickman and Coltrane precious bits of information about their characters' futures. "There's an awful lot revealed about Hagrid in book five," says Coltrane, "and Jo thought it was important for me to know." Like what? "I could tell you," says Coltrane, "but then you'd have to die."
According to Rickman himself, this piece of information wasn't that Snape was a double agent or any other huge plot point; an educated guess might be that she told him that Snape had been in love with Lily Potter, Harry's dead mother, or that she told him that he was relentlessly bullied by James Potter, Harry's dad. It was enough information that Rickman occasionally corrected his directors on set when they asked him to do something that conflicted with what he knew would happen.