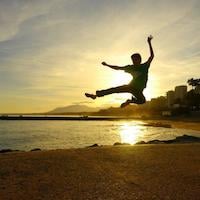 Filed by Mitchell Friedman

|

Jul 28, 2016 @ 5:35pm
Anyone willing to fall for such a shady website's pitch probably deserves it, but the ever-gracious J.K. Rowling took to Twitter anyway to decry the use of her image to promote a seminar called, "How To Write A Best Seller."
CNN refers to the site's ubiquitous Darren Stephens as a "pitchman," which seems as accurate as anything.
The offer's for a three day seminar that costs a mere $4,997 (unless you catch the "limited offer" of $97—what a deal!), a bargain considering you will learn "the exact system" that made Darren Stephens "$250,000 in just 2 weeks and over $2.5 Million in just 12 months!"
Those kind of numbers are probably familiar to Rowling, which is apparently why she's included in a medley of famous people that Stephens implies have worked with him.