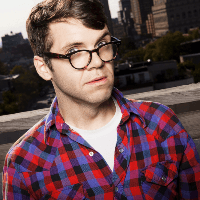 Filed by H. Alan Scott

|

Jul 20, 2016 @ 1:25pm
Jude Law's son Rafferty (of course his name is Rafferty) is equally as attractive creative as his famous parents, and he says he got it all from them.
The mini Jude Law look-alike said in a YouTube interview for JD Sports that "Having creative parents made me a creative person."
When he's not modeling—like professionally, because with those genes you're always kinda modeling—he's creating music. He was formerly in the band The Dirty Harrys with his best friend Marley, son of Pulp's bassist Steve Mackey (NBD).
Besides being the son of Jude Law, his mother is respected British actress Sadie Frost. His parents divorced in 2003.
Here he is waving hi while simultaneously attempting to strangle himself with his necklace...
Then he was like, "F*ck it, I'll just eat the necklace."
"Oh, you caught me sitting, you naughty boy."