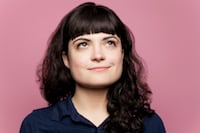 Filed by Jaime Lutz

|

Mar 11, 2016 @ 6:20pm
Justin Bieber posted an Instagram photo today that either shows him with a sparkly nose piercing or a gnarly whitehead. It's probably the former, because Bieber is rich, and rich people never have skin problems. Also, Bieber is the type of person who would think that getting a nose piercing is really edgy, you know?
That's very hot and 2004 of you, Abbi Justin. Also, it's at least more tasteful than most of your tattoos.