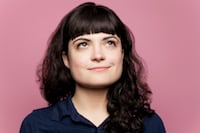 Filed by Jaime Lutz

|

Jul 22, 2016 @ 1:27pm
The Kardashians maybe spend at least 50 percent of their time naked, so here's a definitive ranking of some of their most famous nude moments. What we learned: Kim is by far the nakedest, but her sisters can occasionally give her a run for her money.
13. The Kim Kardashian/Ray J sex tape.
It's one of the most famous celebrity sex tapes ever—so why so low? Well, even though it's what helped catapult the Kardashians to fame, leading to conspiracy theories that the Kardashians themselves leaked the tape, Kim calls it one of the most embarrassing moments of her life, and it seems quite plausible that it wasn't intended for a wider audience. In which case, watching the tape is gross and violating, even though everyone you know probably watched it anyway.
---
12. The "Famous" music video.
Just because Kim likes getting naked doesn't mean that her husband Kanye West had to drag people such as Taylor Swift, Amber Rose, and Anna Wintour into it (though I have to admit I don't feel bad for Bill Cosby). The video isn't linked here, because, even as a huge Kanye West fan, I find it disgusting and violating.