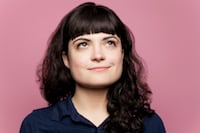 Filed by Jaime Lutz

|

Aug 16, 2016 @ 12:14pm
Of all the supermodels that are Taylor Swift's best friends, Karlie Kloss is Taylor Swift's bestest best friend, and her response to the ongoing Kimye madness proves it.
In an interview with The Times, Kloss was asked about the feud between Swift and the two-headed social media beast that is Kim Kardashian and Kanye West. When asked what she thought of Kim, Karlie responded with a diplomatic "I think she's been a lovely person to me in the past. Look, I really don't know her that well." Some people apparently took that to mean that she was taking Kardashian's side. So Kloss responded thusly:
I will not allow the media to misconstrue my words. Taylor has always had my back and I will always have hers.

— Karlie Kloss (@karliekloss) August 16, 2016
and I will never be the girl that you can use to pit women against each other. That isn't me.

— Karlie Kloss (@karliekloss) August 16, 2016
So Kloss is a loyal friend, but a boring celebrity gossip story.