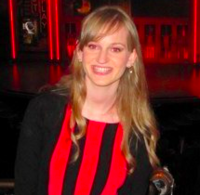 Filed by Orli Matlow

|

Sep 13, 2016 @ 12:04pm
On Monday, Katy Perry took a chill break from laying down tracks in the recording studio—not to unwind with some Fiji water on a gondola like pop stars do, but to help deliver her sister's baby. Like, to moonlight as midwife. What? Cool!
Helped deliver my sister's baby at 2pm & am in the studio by 8pm. GET A GIRL THAT CAN DO BOTH❗️👶🏻🎤

— KATY PERRY (@katyperry) September 13, 2016
As the popular meme goes, get ya a girl who can both record a platinum record and clear out the placenta.
The Daily Mirror pointed out that this wasn't Perry's first rodeo/delivery room. Perry was crowned honorary doula at her sister's first crowning as well.
Finally you can add "helps delivers babies in living rooms" to my resume! It's been a miracle of a day...❤️ Auntie Katy aka Stylist Auntie 👶

— KATY PERRY (@katyperry) February 27, 2014
Perry can add baby-delivering under the "special skills" section of her resume, which also includes motivational speaking, teenage dreaming, and roaring.