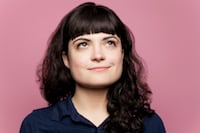 Filed by Jaime Lutz

|

Jul 13, 2016 @ 5:00pm
The most delightful part of producer Calvin Harris's delightful takedown of his ex Taylor Swift on Twitter today was the confirmation that Swift "tried to bury" someone named "Katy." Most people swiftly concluded that Harris was referring to pop star Katy Perry, about whom Taylor allegedly wrote the poppy dis track "Bad Blood." Well, Perry (probably) just responded, in a somewhat oblique way.
OOOOOOOoooohhhh. She also retweeted this:
Time, the ultimate truth teller.

— KATY PERRY (@katyperry) May 9, 2015
On May 9, 2015, the first time Perry tweeted that, "Bad Blood" was just about to be released as a single.
What does Hillary Clinton have to do with this? Well, Perry happens to be one of the most vocal celebrity supporters of the presumptive Democratic nominee for president: