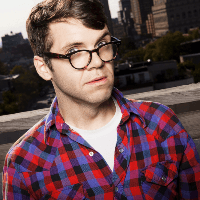 Filed by H. Alan Scott

|

Sep 23, 2016 @ 6:40pm
Kim Kardashian used to be all about Team Hillary, but now it seems she might be ready to "Make America Great Again" with Donald Trump. If you're basing your vote on whom Kim K backs, well, you've got bigger problems than being an undecided voter.
She told Wonderland magazine...
At first I thought, 'Oh my God, I'm so Hillary [Clinton]'... But I had a long political call with Caitlyn [Jenner] last night about why she's voting Trump. I'm on the fence.
NOTE: The quote doesn't appear in the online version of the article, but the Huffington Post confirmed its authenticity.
Look, Caitlyn Jenner is not only America's most famous trans woman, she's also a dedicated, life-long Republican. Surely, after 66 years, she's picked up a few persuasive lines.
Kim K obviously has nothing to do with the KKK, but the sisters Kourtney, Khloe and Kim certainly haven't shied away from occasionally making a Klan joke about their initials. And, given the frequency with which David Duke has popped up in 2016, more than a few people have pointed out Trump's talent at attracting K groups.