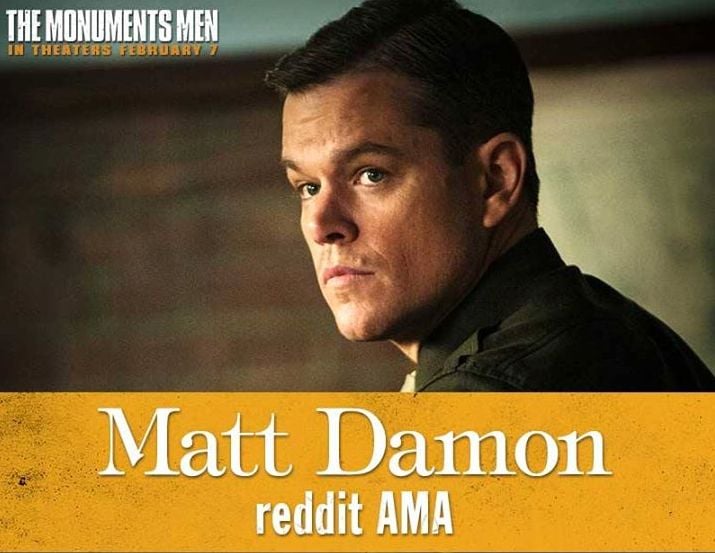 Matt Damon, in case you missed it above.
Matt Damon jumped on reddit this afternoon to promote his latest movie The Monuments Men, which based its current 29% rating on Rotten Tomatoes, is going to need all the help it can get. But it's usually fun whenever an A-list star takes questions from the unpredictable mob at reddit, especially one who is famous for his sense of humor and willing to trade verbal jabs with pretty much anyone.
He's also famous for being a charitable person who spends a lot of his valuable time helping others. In this case, he was promoting a charity he founded called Water.org, along with the Eastern Congo Initiative, co-founded by his pal Ben Affleck. Together they are holding a contest where the winner gets to fly out to Hollywood and hang out with them both.
It's a nice thought, but I imagine the contest winner is going to feel like a huge third wheel.
When asked how close he was to his The Talented Mr. Ripley co-star Philip Seymour Hoffman.
I mean, pretty close. We worked together a long time ago and I would see him here and there, all over the place. I'd go to his plays at the Labyrinth and I saw him just last year, we were working on Monuments Men and had dinner with him. The last time I saw him, I took my oldest daughter to The Hunger Games premiere in LA and we had a chat before the movie started. It's just incredibly weird that he's not around anymore.