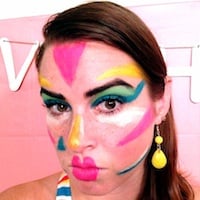 Filed by Ashley Bez

|

Aug 27, 2015 @ 10:09am
It looked like Miley Cyrus appeared on 'Jimmy Kimmel Live' with like, three people's worth of attire. None of which was a shirt.
Somehow, iridescent princess Miley Cyrus manages to wear lots of clothing while also wearing very little clothing. Miley appeared on Jimmy Kimmel Live yesterday in a rainbow-mirrored, crop-caped skirt-suit, her hair adorned with a toddler's entire toy collection. Oh, and sequin heart pasties. Can't forget the pasties! It's like she's having a contest to wear the most accessories, which is a game she always wins because it's against herself.
She talked about how her exposed breasts made John McCartney uncomfortable at the Rock And Roll Hall of Fame induction, which made perfect sense because Jimmy was a little uncomfortable with her wardrobe decision on his show. The best moment is when Miley makes Jimmy blush when she tells him he looked good with scruff. He does look good with scruff! Great observation from his sorta-naked guest.