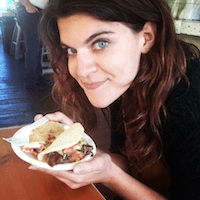 Filed by Kelsey Solywoda

|

Jul 07, 2016 @ 10:55am
Actor, writer, producer, and all-around girl boss Mindy Kaling knows better than anyone that when you live your life in the public eye, you're bound to attract a few haters. Most of hers happen to fall in the white male category. White men hating on a successful woman of color who has her own TV show? Shocking! Lucky for us, Mindy relishes getting shade and gave a special Twitter shout out to all her dude-bro haters yesterday.
Thanks for all the psyched tweets on the season 4 of #TheMindyProject! And for white men shading me, love you guys too! 😘

— Mindy Kaling (@mindykaling) July 6, 2016
She knows they're just jealous of her.
They shade ya 'cause they know they can't stop ya

— Mindy Kaling (@mindykaling) July 6, 2016
How could they not be jealous of her? Mindy is awesome. She acts, she writes, and she still finds time to make fun treats for her co-workers. She actually does it all.