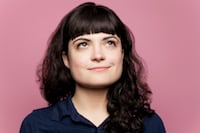 Filed by Jaime Lutz

|

Jan 26, 2016 @ 4:30pm
Rapper B.o.B. believes that the Earth is flat and that there's a scientific conspiracy to hide this fact, and recently made those views hilariously apparent on Twitter, which eventually prompted a response from astrophysicist Neil deGrasse Tyson. Tyson used science and math to show that the Earth is, in fact, round, but B.o.B. has an equally powerful tool at his disposal: the power of music. Specifically, his new diss track, released today, called "Flatline." In it, B.o.B. takes Tyson to task for his unwillingness to consider that maybe the world is a floating pancake. Listen to the beginnings of the greatest rap feud since Jay-Z and Nas buried the hatchet:
https://soundcloud.com/bobatl/bob-flatline-feat-neil-tyson/s-X0irU
"Neil Tyson needs to loosen up his vest," B.o.B. raps, devastatingly. "They'll probably write that man one hell of a check." He also name-checks David Irving, a Holocaust denier, in case you thought he was just wrong about this one thing.
Related: Rapper B.o.B. thinks the Earth is flat, decides to tweet about it. Neil deGrasse Tyson responds.