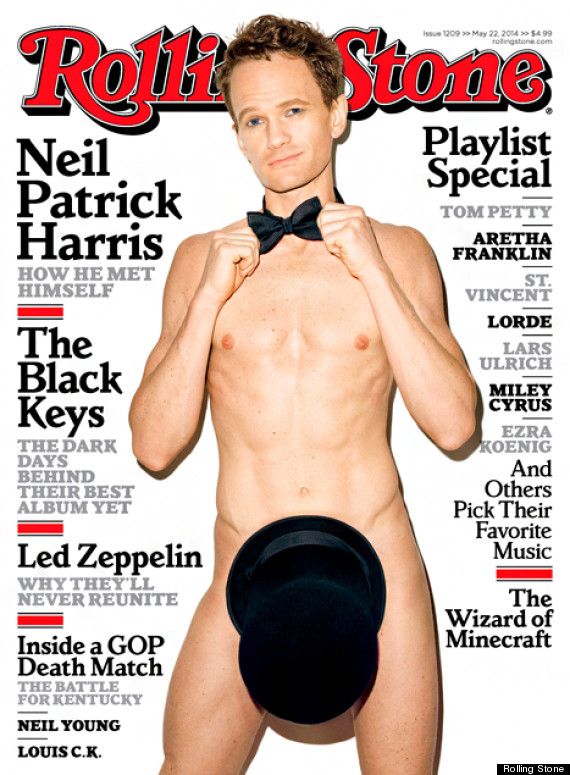 Not many guys can pull off a top hat.
Neil Patrick Harris is a the kind of gay man who must drive anti-gay conservatives insane. He's been a Hollywood actor for most of his life, he's a seemingly well-adjusted family man, and makes being rich, talented, successful and gay seem so normal that it must take considerable effort to not like the guy. On paper, NPH is someone who could easily be a screwed up, bitter Hollywood D-bag, yet he's somehow effortlessly easy-going and cool. He's on the cover of the latest issue of Rolling Stone to promote his Broadway run in Hedwig and the Angry Inch.
From the article:
On how coming out helped - rather than hurt - his career:
"Once all the cards were on the table, I got more opportunities than ever. Some actors don't get hired because you can't look into their soul and see what they're like, because they're kept guarded."
His partner David Burtka on Harris's huge popularity among straight bros who loved him as Barney Stinson on How I Met Your Mother:
Straight dudes can't seem to stop trying to high-five Harris. They call him Barney, they drop Harold and Kumar references. "So many frat guys," Burtka says. "It doesn't seem right, in a way. But it's very exciting at the same time."
On how, after years of playing up masculinity, having to learn how to act more effeminate for Hedwig: