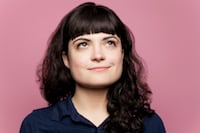 Filed by Jaime Lutz

|

Sep 30, 2016 @ 11:52am
Marrying Tom Cruise: the evidence shows that this isn't a good idea. Now Nicole Kidman, who divorced Cruise in 2001 after more than 10 years of marriage, admits that she regrets marrying the Scientologist/actor at the age of 23.
"I was so young when I got married. I look back now and I'm like, 'What?'" Kidman told the U.K. magazine Red, according to People.
"You look at Taylor Swift, I mean how old is she? She's 26," Kidman said. "I had two kids by the time I was 27 and I'd been married for four years. But that's what I wanted."
Kidman has previously admitted that she still loved Cruise when he surprised her by filing for divorce, a decision that likely had to do with Cruise's Scientology (ex-members of the church have said they helped facilitate Cruise's divorce from Kidman).
Kidman, who's now 49, recently celebrated her 10-year anniversary with current husband Keith Urban, so all's well that ends well I guess?