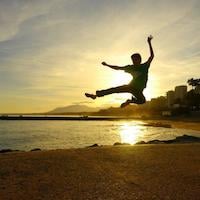 Filed by Mitchell Friedman

|

Jun 01, 2016 @ 4:14pm
Canadian model Winnie Harlow just appeared in Queen Beyonce's Lemonade, and now English royal family members are appearing in her selfies. You know you're #crushing it when you're having lunch so close to Prince Harry that he's sticking out his tongue to ruin your photo-op.
"When you're trying to have a serious convo but your agent and Prince Harry aren't serious at all," the 21-year-old captioned her Instagram, capitalizing on the phrase "that moment when..." even though it's obviously a moment no one else is ever having.
A photo posted by ♔Winnie♔ (@winnieharlow) on
Harlow was diagnosed with a rare skin condition called vitiligo when she was four, and clearly she's let it hold her back immensely. She's been on America's Next Top Model, she's worked with Beyonce, and she found herself attending the Audi Polo Challenge in London—where Princes Harry and William were waiting patiently to photobomb her.