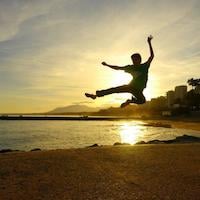 Filed by Mitchell Friedman

|

Mar 03, 2016 @ 1:30pm
When there's no good Kanye West tweets to make fun of, Sam Smith has acted as a comfortable target to fill the ridicule void. That's why it's so disturbing to hear he's hitting the "log out" button for good. Or at least for now.
https://twitter.com/samsmithworld/status/704726029550690304?ref_src=twsrc%5Etfw
But before saying goodbye to the rewriter of Tom Petty's 1989 song, "I Won't Back Down," it's important you understand the beautiful moments that culminated in his sign-off.
Here's to the time he told Twitter about discovering racism, and Twitter destroyed him.
https://twitter.com/samsmithworld/status/689646711837442048?ref_src=twsrc%5Etfw
https://twitter.com/dstarwriter59/status/689793827910086656?ref_src=twsrc%5Etfw