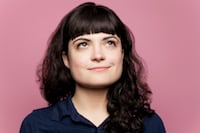 Filed by Jaime Lutz

|

Sep 02, 2016 @ 11:54am
Our long national nightmare is over. After one too many years of totally wretched songs taking the top spots on the charts during the summer, the most listened to song from this summer was "One Dance," by Drake featuring Wizkid and Kyla, according to The Official Chart Company's data. And it's a pretty good tune!
Yes, there are better Drake songs (if only "Hotline Bling" was released right before the season began!); yes, part of you was hoping for "Broccoli" or "No Problem" or hell, even "This Is What You Came For." But look. Last year the consensus was that we did not even have a Song of the Summer. The year before that, Iggy Azalea's "Fancy" dominated. Before that, admittedly catchy borderline-rape anthem "Blurred Lines." You have to go back to "Call Me Maybe" in 2012 to find a lovable Song of the Summer, and even that is controversial.
"One Dance" has a lot going for it—it melds Caribbean-influenced R&B and hip-hop in a fun Drake-y way. It's moody and sexy and light, you can totally grind up on a stranger to it in the club. Also, it's a song by one participant in the most important love story of our time, which is a bonus.