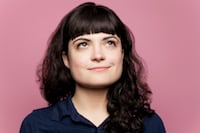 Filed by Jaime Lutz

|

Aug 08, 2016 @ 5:30pm
Taylor Swift is curling her hair again like she did in 2009, when she was America's Princess Victim and Kanye West was the asshole who interrupted her speech at the VMAs. Oh, Tay-Tay. You can't just go back in time that easily. Still, it looks like Swift isn't spending too much time thinking about snake emojis and Kim Kardashian's Snapchat while she's partying with friends in the Hamptons:
I'm just glad she's gotten rid of that white-dyed shag cut. Goth Taylor Swift is a jarring mental image!