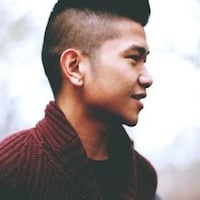 Filed by Keith Estiler

|

Feb 17, 2016 @ 9:23am
Okay so 26-year-old rapper Tyga, who wrote a ridiculous song called "Coconut Juice" (and who is supposedly dating a Kylie-look-a-like) denied musical OG, Sir Paul McCartney, entry to his post-Grammy party?
Oh hell naw, b.
Yup, he did. Well, someone at the party did. And when Jimmy Kimmel confronted Tyga about the ridiculous situation on his show last night, the California rapper responded with some questionable rambling.
Tyga claims it wasn't his party, he was paid to perform there. And although Tyga wasn't at the door when it all went down, he should have at least been more wary about the situation, especially when it's folks of such high importance. Because apparently, Beck and Taylor Hawkins from the Foo Fighters were denied as well.
"Don't tweet me, tweet the fire marshal," Tyga said. Umm, okay.