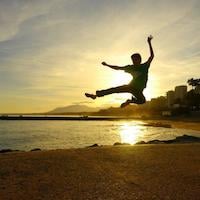 Filed by Mitchell Friedman

|

Sep 19, 2016 @ 8:51am
After his Emmys win on Sunday, comedian Patton Oswalt met press backstage and shared a touching sentiment he couldn't fit into the time allotted onstage.
Every bit of growth that I've had in my career especially in my writing and my performing came because I met Michelle McNamara. Because I met and married this woman who just was so much wiser and self-actualized and aware of life than I was. I had convinced myself that I was aware and self-actualized and mature but then I met the real deal...to have that ripped out of my life the way that it has this year — I'm not trying to say that this is meaningless, but everything seems like the lights have been turned down 50% on everything since she's gone. It just going to be a long, long time before I can be the kind of person she made me again.
In a year in which the comedian suffered through the death of his wife, Michelle McNamara, Oswalt had taken the stage and said, "I want to share this with two people: One of them is my daughter, Alice, waiting at home. The other one is waiting somewhere else—I hope."
Oswalt won the Emmy for Outstanding Writing for a Variety Special for his comedy special, Talking for Clapping. He elaborated on the bittersweet feeling in a photo of his after party: