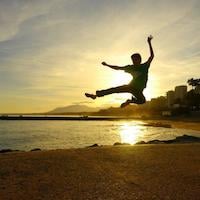 Filed by Mitchell Friedman

|

Sep 21, 2016 @ 8:33am
Thanks to Us Weekly, Jennifer Aniston's reaction to the still-unfolding Brangelina divorce is now allegedly more than wild speculation.
According to an insider, the Mother's Day actress, 47, said, "Yeah, that's karma for you!" while discussing the news with a longtime pal.
"Sources" have had an extremely busy 24-hours. First, they blamed the Angelina Jolie/Brad Pitt split on "another woman." Then they pivoted to Pitt's alleged marijuana use.
Now, Us Weekly is reporting that someone in the know says Aniston "always got the sense that something would happen with them eventually," adding "she didn't feel that Angelina was truly the one who Brad was meant to stay with. She always felt that Angelina was too complex for him."
And probably the best line:
He's a pretty simple guy.
Eager not to miss out on Christmas for "sources," a second source tells the magazine that the actress "admittedly feels sort of satisfied about Brad and Angelina's split." And even though the source clearly enjoys dishing on the juicy topic, Aniston "never wanted this for them or wished this on them."