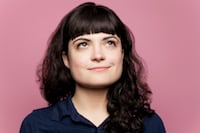 Filed by Jaime Lutz

|

Sep 26, 2016 @ 1:59pm
Star Wars: The Force Awakens revealed that soul mates Han Solo and Princess Leia broke up after their Jedi son Ben went to the dark side of the force, becoming Kylo Ren (No spoiler warning, you had every chance in the world to see this movie. Come on, people). But national treasure Carrie Fisher, who plays Leia in the movies, revealed her own theory at the Saskatoon Comic & Entertainment Expo: hyperspace. I think it's a metaphor for sex?
Carrie Fisher

Carrie Fisher stole the show today! She told some great stories about Star Wars, Harrison Ford and offered up several musings about Leia's relationship with Han. See you all tomorrow!

Posted by Saskatoon Comic & Entertainment Expo on Saturday, September 17, 2016
"He smuggled way too much and, girls, I know you don't want your husbands smuggling, do you?" Fisher said. "Hanging out with the hairy guy too often. I think there's a lot of problems with that. Wouldn't take me on the hyperspace thing enough. [pause] Euphemism."
And despite the fact that I continue to ship Carrie Fisher and Han Solo actor Harrison Ford in real life due to the fact that they're both so damn weird, Fisher says that love is doomed, too.