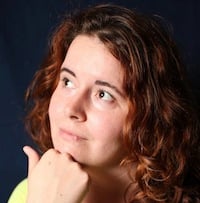 Filed by Aimee Lutkin

|

Dec 15, 2015 @ 9:23am
Love Actually is a lot of people's favorite Christmastime (or anytime) movie, because it follows a crowd of lovelorn sociopaths through the London season of giving and there's something for everyone. Literally. There are like, a million plots. Some were bound to end on a vague note, but script editor Emma Freud went to a midnight screening on December 13 with writer-director Richard Curtis, and cleared up some stuff. She did a kind of live-tweet/Q&A with her followers about all the ways she influenced the script. For instance, she takes credit for the way Colin Firth kisses:
https://twitter.com/emmafreud/status/675935326934867968
And her kid was that goofy Spiderman:
Enough fun! Here's the bad news. Remember how Harry and Karen are this cool, seemingly happily married couple, and then Harry looks up the skirt of his secretary and buys her a necklace because she has a vagina? Yes, it was terrible.