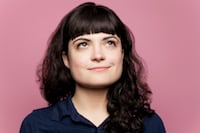 Filed by Jaime Lutz

|

Apr 07, 2016 @ 4:30pm
AHHH nerds! Congratulations! There's a teaser trailer out for Rogue One: A Star Wars Story, and it kicks ass. Set in a time after the prequel movies but before the original trilogy (and long before The Force Awakens), Rogue One tells the story of the men and women who stole the plans for the Death Star, helping Luke Skywalker, Princess Leia, and Han Solo save the day in Episode IV. Anyway, if you haven't seen the trailer yet, be warned, it's a little too f*cking amazing:
Obviously, Twitter is going crazy. Some geeks, of course, were annoyed that this is the second film in a row in the Star Wars universe starring a woman (Felicity Jones) instead of a normal person (the only normal people are straight white guys with short haircuts and round rock-hard muscles; everyone else is a freak). But most people loved it, because if women have had to identify with male action heroes for decades, male Star Wars fans can deal with having the Hologame tables turned for a little bit. Here are the best reactions:
1.
Saw #RogueOne trailer. Meh, big deal. Just hope the weather stays nice as I sit here on the sidewalk in front of the theater till December.

— Frank Conniff (@FrankConniff) April 7, 2016