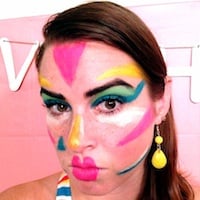 Filed by Ashley Bez

|

Aug 23, 2015 @ 12:56pm
It's horror movie about getting stuck in a horror movie.
WARNING: after watching the trailer for The Final Girls you will want to immediately watch/be in the movie. It's about a girl, Max (Taissa Farmiga), whose deceased mom (Malik Akerman) was the star of the horror film "Camp Bloodbath" when she was alive. Max goes to a screening of "Camp Bloodbath" with her friends, and they all end up inside the movie, fighting for their lives alongside the characters.
The Final Girls manages to take the best parts of a bunch of movie genres and make a really great smoothie out of it. It's super funny yet sincere, and even has hot girls in bikinis! I can't wait to see this sci-fi/comedy/horror/drama, even though what I really want is to be in the actual movie. Sure, they're trying to stay alive, but it looks really fun.