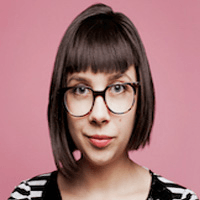 Filed by April Lavalle

|

Aug 29, 2016 @ 9:00am
You may have been too busy dancing around your living room or praying at the alter of Mrs. Carter to notice, but during her VMA performance over the weekend, Beyoncé's dancers got into formation and created a giant Venus symbol on stage. In case you missed it due to the excessive use of fog machines:
Now watch the performance and keep an eye out for the Venus symbol at the very end.
Thanks for the "Lemonade," Beyoncé.

Posted by MTV on Sunday, August 28, 2016
Yes, like Michelangelo, da Vinci and all other great artists, Beyoncé likes sprinkling some hidden messages into her work. Remember when you thought her performance couldn't get any better? It just did.
This is a little more subtle than standing in front of a giant, lit up sign that said "FEMINIST" like she did at the 2014 VMAs, but definitely inhabits the same girl-power message.