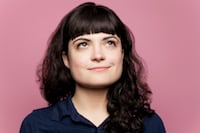 Filed by Jaime Lutz

|

Sep 13, 2016 @ 12:23pm
So apparently Geri Halliwell (Ginger), Emma Bunton (Baby), and Mel B (Scary) are looking for two honorary Spice Girls to join them for a reunion concert in place of Mel C (Sporty) and Victoria Beckham (Posh), who are apparently busy with their non-Spice Girl jobs. Honestly, good riddance to them—you'll be a better Spice Girl. What name are you going to pick? Dibs on "Slutty Spice!"
According to the International Business Times, the Girls are planning to find replacements in a reality TV show format, much like America's Got Talent, for which Mel B is already a judge.
By the way, when I was growing up, all the girls on the playground wanted to be Sporty Spice. Now I see that this is ridiculous, and that you're a chump if your favorites aren't Ginger or Scary, the linchpins of the whole group and also the ones with the best hair. Baby is important for pure idiotic attitude. Posh was always obviously disposable except as a wearer of tiny dresses, and Sporty mostly just did flips I think? So yeah, if you're cast you'll get to perform with the three best Spice Girls. Audition!