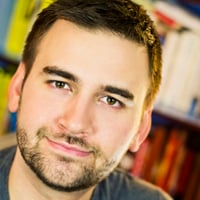 Filed by Dan Wilbur

|

Apr 06, 2015 @ 11:13am
'Mad Men' is back on AMC, and so (unfortunately) is the workweek.
Here are the five moments from last night's premiere that will make you happy you have your job in the here and now and don't work at Sterling Cooper Draper Pryce in 1970.
1. At least your elevator small talk isn't this tense.
(via AMC)
Sure, someone saying "finally feels like spring out there!" makes you want to push the button for the highest floor in the building and reenact the opening credits from this show, but that's nothing compared to Peggy snidely taking the side of the misogynist men who belittled Joan in a meeting. Last night's episode showed exactly how much damage can be done in just a few floors' time.
2. You didn't get fired.
(via AMC)
Good for you! You showed up Monday and still have a job (and maybe even both eyes to stare at a computer screen all day). Ken's father-in-law retired, and along with that came the news that Ken needed to give all his accounts to Pete and hit the bricks! So collect that paycheck and don't fret about moving to the woods to write your novel. Just write it at your desk during your lunch break.
3. Nobody goes all 'Fifty Shades of Grey' with you while you model a mink coat in front of sleazy dudes.
(via AMC)
Even if you don't currently have a job, I'd say don't go looking for this one. Collecting unemployment would be better than living out a male fantasy in front of men who are fantasizing about women all day. Now eating at your desk doesn't seem so bad in comparison to being gawked at while semi-nude, does it?