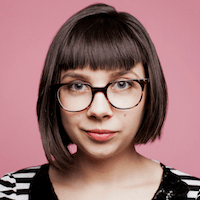 Filed by April Lavalle

|

Jul 12, 2016 @ 7:56am
Actress Aya Cash posted a really telling picture that illustrates the difference between what she wears for a cable versus network television sex scene. On the left is what Cash would "wear" while filming a sex scene for her cable television show You're the Worst on FX, and on the right, Cash models what she wore while filming a sex scene for the now-canceled FOX show Traffic Light. One is a lot more fabric than the other.
Cable sex scenes vs network sex scenes. Modesty cover comparison.
So basically the one on the right looks like something that wouldn't even break a High School dress code while the thing on the left looks sort of like one of those thong panty liners or maybe a weirdly shaped Band-Aid. What that tiny strip of fabric actually is is a "strapless g-string." Essentially it's a big triangular sticker that you attach to your lady parts, and the little heart shaped piece is a butthole cover. Sounds comfy.