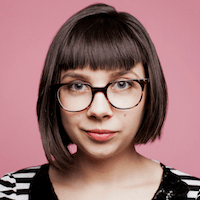 Filed by April Lavalle

|

May 24, 2016 @ 9:08am
The new season of The Bachelorette premiered on Monday, and millions of people gathered around their televisions to yell their best dating advice at the screen. The bachelorette herself, JoJo Fletcher, seems to be just as big of a fan of the show as everyone else, and is just as critical of it too. Fletcher made a cameo on Jimmy Kimmel Live! last night, and showed America that she too sits on her couch to watch the show, wine glass in hand, screaming at the television. Behold, the bachelorette watching The Bachelorette.
Of course, hindsight is 20/20 when you are on the outside looking in. Maybe she is screaming at herself for making out with that really drunk guy on the premiere episode?