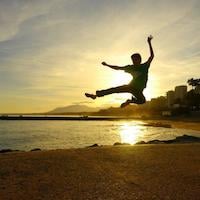 Filed by Mitchell Friedman

|

Jun 13, 2016 @ 10:58am
Game of Thrones spoilers below, duh.
Game of Thrones episode eight, "No One," did not disappoint, unless you're looking to poke holes in a plot about a girl whose stomach is full of holes. Those holes didn't stop her from running at full speed throughout Bravos, staring death in the (no) face, and eventually snuffing out the light of one nameless Waif. Amateur doctors on Twitter were quick to diagnose these actions as grade A bullsh*t in light of Arya's brutal gut injuries.
Some were resentful that Arya wouldn't share her Valyrian plot armor.
Roose, Robb, and Talisa died immediately after they were stabbed in the gut. But not Arya. That was just a mere flesh wound. 😐

— Lady Stoneheart (@StoneheartLady) June 13, 2016
If Arya survived a cut like that then Robb Stark should still be alive. #GameofThrones

— Lady Stoneheart (@StoneheartLady) June 13, 2016
Some called out for real doctors, while others became maesters themselves.
Can a medical pro explain how Arya could a) survive 2 deep stab wounds in direction of vital organs or b) whether she could leap about?

— BryndenBFish (@BryndenBFish) June 13, 2016