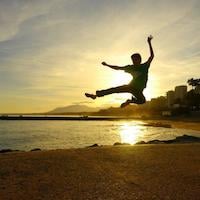 Filed by Mitchell Friedman

|

Jul 26, 2016 @ 6:25pm
John Bradley, also known as maester-in-training Samwell Tarly, is the latest Game of Thrones cast member to fall victim to a borderline cruel prank at the hands of HBO's showrunners. Sandwiched between Hodor and Davos during a roundtable on Conan, Bradley told a story about one unfortunate costume.
Apparently, Bradley received a script from Weiss and Benioff that described Sam's first on-screen trip to his home in Horn Hill. His script read:
We see Sam dressed for dinner. Sam is now resplendent in a bright purple frock coat, pink tights, pink slip-on shoes, and a pink box hat.
Since Sam is a noble-born boy, and perhaps wore silly clothes at his home in Horn Hill, Bradley's suspicions weren't aroused. Sure, he thought, this makes sense for Sam. Perhaps surprised that the prank was going over so well, his bosses had Bradley go to a fitting in Belfast. The result is best described as Henry VIII on acid (with a silly codpiece).