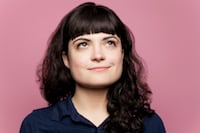 Filed by Jaime Lutz

|

May 02, 2016 @ 1:13am
"Home" rivals season four's "purple wedding" as the most bonkers second episode in a season of Game of Thrones. It [Stefon voice] had it all: Christlike resurrections, patricide, completely impractical bridges, a zombie crushing someone else's head like it was a watermelon at BuzzFeed, Hodor, Hodor, and Hodor. Let's dive in. Warning: spoilers ahead.
The biggest moment: Jon Snow lives.
As Someecards has confidently foretold over and over again, Jon Snow was brought back to life by Melisandre last night in probably the easiest bit of magic she's ever done? Compare: to kill Renly Baratheon, Melisandre had to have sex with Stannis, become physically pregnant, and give birth to a demon shadow child. To make the weather nice for a little bit, she had to burn a small girl at the stake. To bring Jon Snow back to life, she basically just had to give him a haircut.