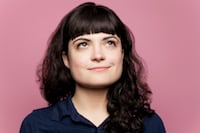 Filed by Jaime Lutz

|

May 16, 2016 @ 12:30am
There are two kinds of great episodes of Game of Thrones. In one, the plot largely follows one group of characters around in a kind of big budget epic version of a bottle episode—think "Hardhome," "Blackwater," and "The Lion and the Rose" (better known, probably, as the episode that finally killed off Joffrey). "The Rains of Castamere"—the episode with the Red Wedding—also largely focused on its big, tragic conclusion, still probably the most stunning moment of the series. "Book of the Stranger," though, had the rare distinction of being a more typical episode of Game of Thrones that jumped around several different locations and somehow managed to have excellent scenes from beginning to end. Warning: spoilers for last night's Game of Thrones ahead.
The biggest moment: Holy f*ck, Daenerys.